Prof. Victoire de Margerie announces the Awards of the World Materials Forum Start Up Challenge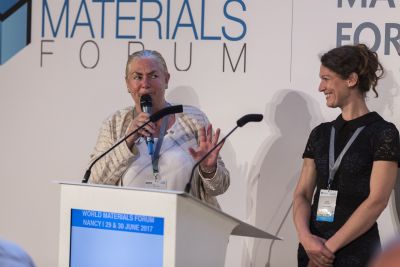 For this 1st edition of the WMF Start Up Challenge, 35 applications have been received from around the world (Belgium, China, Finland, France, Germany, Italy, Norway, Spain, USA), and the jury met at ESCP Europe in Paris on March 24th to nominate 14 candidates. Each nominee was offered a « package » including a booth in Nancy on June 29th and 30th, the professional shooting of a video to be further used for promotion purposes as well as a full coverage of registration, accomodation and transportation costs for his or her CEO.
Finally 3 Awards were announced in Nancy last week. Prof. Victoire de Margerie, Jury Chairman states : « This first edition has allowed our nominees to meet and exchange with targeted professionals at the highest level. We hope to welcome them all again as participants at WMF 2018. The 3 Awards went legitimately to 3 companies that fitted the best with the WMF objective of decoupling materials consumption from sustainable growth while creating value for all involved stakeholders. And we are happy that the winner of the Grand Prix will be a member of our jury in 2018
The GRAND PRIX (20,000 € in cash as well as 3 CEO meetings organized by WMF for Citrine) was awarded to Greg Mulholland, CEO of CITRINE INFORMATICS by Prof. Victoire de Margerie, Jury Chairman.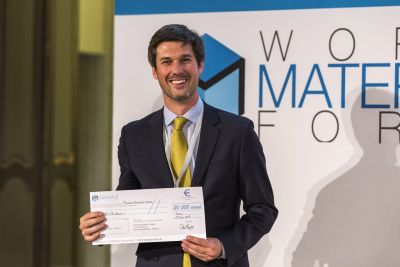 The « COUP DE CŒUR » (5,000 € in cash as well as 3 CEO meetings organized by WMF for Sepion) was awarded to Peter Frischman, CEO of SEPION TECHNOLOGIES by Prof. Eric Fullerton, member of the Jury.
The « PARTICIPANTS AWARD » (5,000 € in cash as well as 3 CEO meetings organized by WMF for Keey Aerogel) was given to Francesco Ruiz, CEO of KEEY AEROGEL by Myrtille Delamarche, member of the Jury.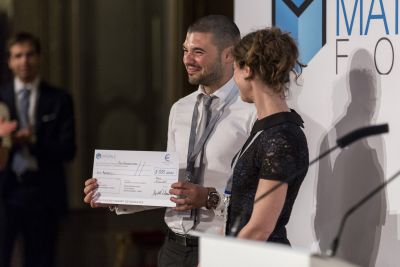 The 3 winners :
CITRINE (Redwood City, California) : artificial and predictive intelligence technologies, which enable a 2-5x acceleration of the materials development process for alloys, semiconductors, composites, polymers, 3d printing etc...
SEPION (Berkeley, California): Longer lasting ion lithium batteries (600 kms range) at equitable price thanks to new membrane technology that allows for no more crossover of undesirable ions across the battery separator.
KEEY (Mulhouse, France) : high value valorization of silica containing Construction and Demolition Waste for energy-efficient buildings construction and refurbishment, by their integration as aerogel materials with only 15% of the thickness required for the same thermal insulation factor.
July 7th, 2017